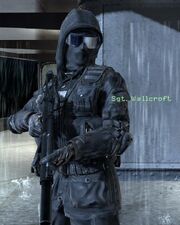 Sergeant
Wallcroft
is an
SAS
soldier who served alongside Soap during the events of
Call of Duty 4: Modern Warfare
an
Marcus Burns
in
Call of Duty: Modern Warfare 3
. He returns from Call of Duty 4: Modern Warfare.
Wallcroft and Griffen reappear in the Modern Warfare 3 campaign mission, "Mind the Gap", as SAS squad leaders.[2] Sgt. Wallcroft is voiced by the legendary, Craig Fairbrass[3] A secret published video on mind the gap showed that Sgt. Wallcroft had the same headset as Ghost. He also wore a gasmask. Wallcroft along with Burns are last seen when securing the Russian truck outside the metro and is believed they survived the explosion.
Ad blocker interference detected!
Wikia is a free-to-use site that makes money from advertising. We have a modified experience for viewers using ad blockers

Wikia is not accessible if you've made further modifications. Remove the custom ad blocker rule(s) and the page will load as expected.